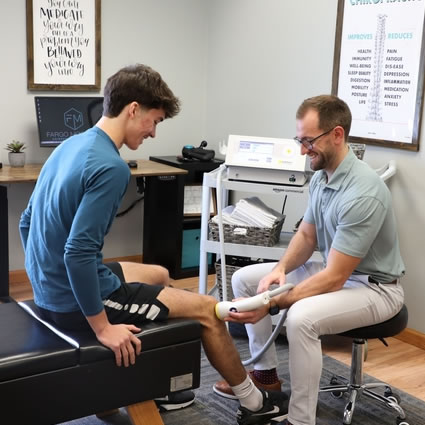 SoftWave TRT Therapy in Fargo
SoftWave is a non-invasive stem cell therapy that has been an absolute game-changer for us. It focuses on finding and immediately decreasing inflammation, while also activating the body's stem cells. Patients notice, in the time it takes to do a session, a big difference in how they feel and function.
Dr. Seth has had many low back injuries in the past, as well as a nagging shoulder injury from a dirt bike accident. These issues spurred his interest in SoftWave therapy, and it has helped him a lot. He's excited to share this new service with his patients.
NEW PATIENTS

Am I a Candidate for SoftWave?
Most people will benefit from SoftWave. It helps with conditions like
Shoulder pain
Low back pain
Knee arthritis
Sciatica
Plantar fasciitis
Foot/ankle pain
Shin splints
Achilles tendinopathy
Peripheral arterial diseases
Scar tissue treatment
And more
One question we get a lot is, "Can you do it on a knee that is bone on bone or doesn't have a lot of cartilage?" The answer is yes, we can. It works really well for people of all ages, from high school up to people in their eighties.
An alternative to an injection, surgery, or medicine. SoftWave TRT is an option that heals.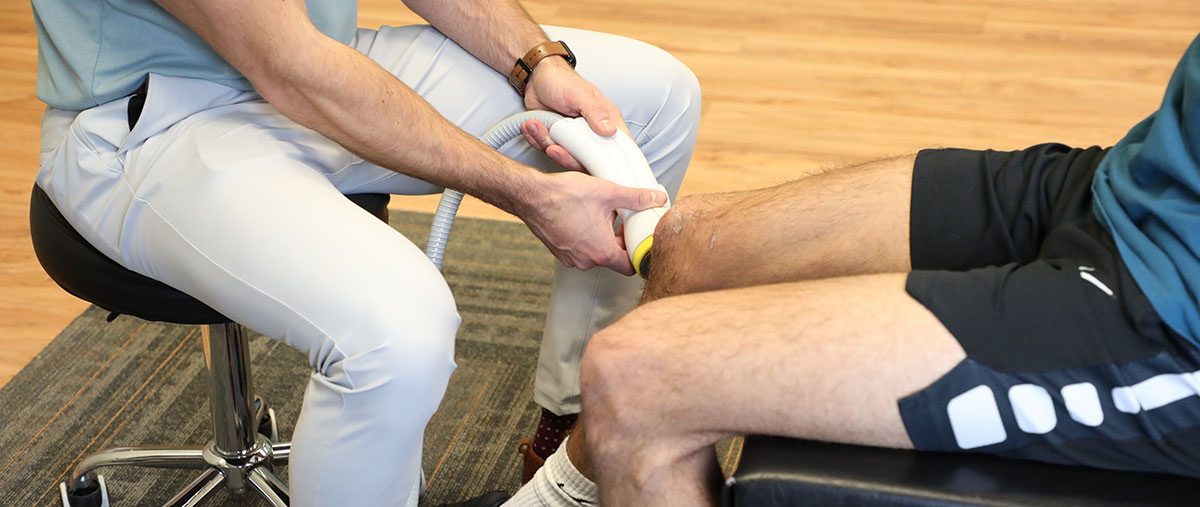 How Does It Work?
FDA approved SoftWave TRT uses patented technology to reach an injured area at the cellular level to successfully turn on the body's natural healing process. With no anesthesia or numbing agents needed, no side effects, short session time, quick recovery, and long-lasting effects, SoftWave might be the right solution for you.
Some results which have been seen include
Increases blood supply
Modulates inflammation
Stimulates, activates, and recruits resident stem cells
Accelerates wound healing
Repairs, remodels, and regenerates tissue
Induces antibacterial effect
Reduces acute and chronic pain
Getting Back on Her Feet
Dr. Seth cared for a pharmacy technician who had to take time off work due to plantar fasciitis. The pain did not allow her to stand or walk. After her SoftWave session, she took five steps, realized she was pain free for the first time in years, and started to cry. Dr. Seth counts this as one of his favorite plantar fasciitis cases and the coolest experience ever.
Get Your Body Unstuck and Healing, and Get Back To Living
SoftWave innovated a better way to advance tissue healing and regeneration. Discover if this is the answer you've been seeking. Contact Fargo Moorhead Chiropractic and Wellness today.
CONTACT US

SoftWave TRT Therapy Fargo ND | (701) 850-8089