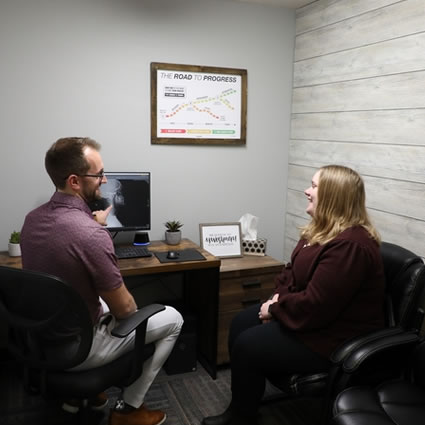 Fargo Moorhead Chiropractic and Wellness Reviews
What Our Fargo Patients Say
At Fargo Moorhead Chiropractic and Wellness we love when patients share with us their feedback and comments after chiropractic care. Please read our patient testimonials below to see what other people have achieved through their tailored treatment plans with us. Share your stories too! Click here to send us your feedback so that we can help to spread the word about the benefits of natural Fargo Moorhead Chiropractic and Wellness care. For more information, or to schedule an appointment contact us today.

Absolutely Perfect
My first visit was absolutely perfect. It was quick, efficient, and right to the point just like I was hoping for and needed. Did it over lunch and was perfect timing. Seth was great to work with and talk to and he was super helpful! I knew right away that they definitely have a long term patient in me! – Connor A.
Immediate Improvement
Just had the SoftWave therapy done on my foot with Seth….immediate improvement! Looking forward to being pain free. Thank Doc! – Jorin J.
Highly Recommend
I started seeing Dr. Lunneborg in 2020 after trying several other chiros in the area. I had severe pain in my neck and into my arm where it was painful to leave it resting for 6 months. After following his recommended course of treatment, I finally got my relief and have kept up with regular visits to ensure it doesn't happen again. I have also implemented tools and continued stretching at home to help me stay straight. He keeps up with methods outside of just an adjustment to assist you through your treatment. He and his staff are very welcoming. He's got a great bedside manner and is a pretty fun guy on top of it. I highly recommend! – Jacquie H.
Seeing Results
I just saw Dr. Seth for the first time today and could not be more happy with my visit! He was so thorough in explaining my scans and the reasons for my pain, and continued to relate back to that information during my treatment so I understood what he was doing and why. If you are looking for a chiropractor, Dr. Seth is the person to see! I can't wait to continue seeing him and the results from his treatment! – Lindsay T.
Comprehensive Chiropractor
Absolutely one of the most comprehensive chiropractors around. The consultation and evaluations were more than most places and that led to a very tailored game plan of treatments / adjustments for my specific needs. I have tried others in the area and either it was one size adjustment fits all or it was rush rush rush, insurance $$$, rush rush rush. They treat me like a person, answer a lot of questions I had and still have. As a bonus, they have a great mascot (dog) who is sometimes in the office and it is the most loving big pup ever. You will walk out feeling better not just on that day but long term down the road, which is what we all want/need – Justin W.

Fargo Moorhead Chiropractic and Wellness Reviews | (701) 850-8089